Every Sunday morning Pit Bulls (and some other breeds of dogs) that want to shine up their leash manners around other dogs come to class to learn to have good manners around other dogs on leash. This class is done on a nice quiet little street in Los Gatos California. Some people come out of their houses with their coffee cups and watch with strong interest. Others walk by or come by on bikes. Some folks actually come by and start videoing the class.
One very nice woman came by and watched the class one Sunday and mentioned that she was terrified of dogs. I talked to her about dog behavior and showed her using the class dogs what certain body language in dogs could mean. She was very interested in learning and continued to come to class every week.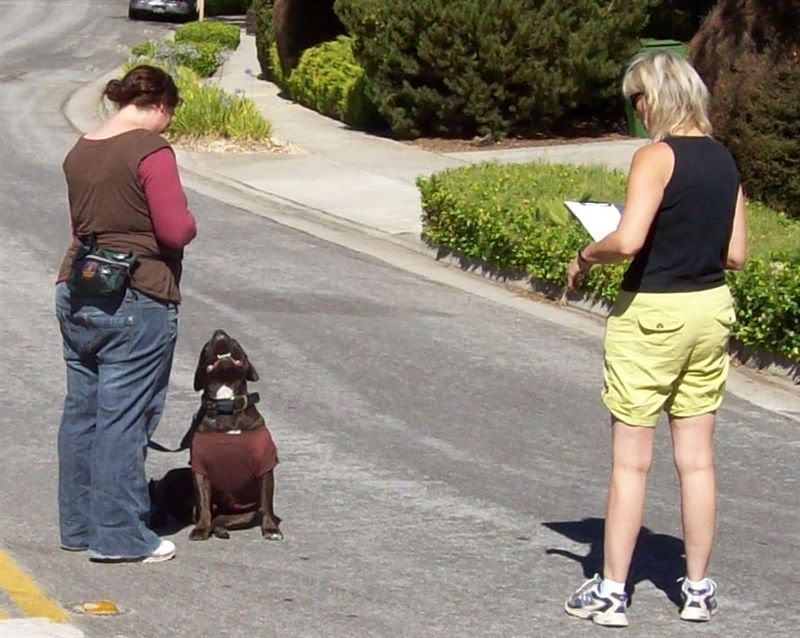 This Sunday was our Canine Good Citizen testing day. One of our CGC achievers was Maximus. Our very nice lady friend met this deliciously handsome and squishy kissable love boat and was amazed at how friendly, mannerly and truly wonderful he was. This seemed to melt her fears along with her heart.
So, DNA schmeeNA. Not saying it isn't important and even critical to have this testing tool but until testing is perfected, more widely available and more economical, focus on the fact that dogs like Maximus continue to warm hearts and change minds is what it takes to build understanding about these amazing dogs.
Congratulations to Maximus and to all of the new CGC recipients!